In Memory
Richard Creal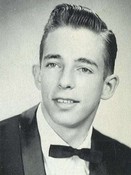 Richard Edward Creal passed away at St. Barnabas Medical Center, Livingston, N.J.,
on Friday, Sept. 7, 2012.

Richard was born in Jersey City, N.J., on Aug. 19, 1944.
He was the son of the Reverend Robert L. and Mary Frances Creal.
He attended the University of North Carolina, Chapel Hill, earning a degree in journalism.
He was a captain in the United States Air Force, stationed in Sumter, S.C.
After his tour of duty, Richard held positions in the financial and trade publication
industries. He retrained in computer technology and worked at Storis in
Mt. Arlington, N.J., as a quality assurance technician for 11 years,
retiring in January 2012.
Richard's interests included American history,
particularly the Civil War and the American Indians; physical fitness;
travel, and photography.

He is survived by his wife of 25 years, Melissa Harder; brother Robert and his wife, Nancy;
sister Sharon and her partner, Judith; and nephews and nieces David and Jason Creal;
Kevin, Kelli, Chad, and Sarah Mohan; and Valerie, Matthew, Braden, Trevor,
and Olivia Berkey.

In keeping with his loving and generous spirit, it was Richard's decision to be an organ
donor so that others may live. In lieu of flowers, tax-deductible donations may be sent
to Latino Scholarship Fund, P.O. Box 3355, Danbury, Conn. 06813, www.danburylatinofund.com.
.
Offer condolences at www.BerminghamFH.com