In Memory
Brenda F Johnson (Flanders)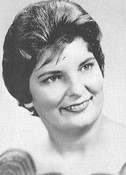 Bereavement information provided by Mary Margaret Neely Cofield.
Obituary furnished by Phillip Irvine.
Brenda Johnson Flanders of Huntsville passed away Tuesday, March 13, 2007. She was 63. Mrs. Flanders was a member of Southside Baptist Church. She is survived by her husband, Joe Flanders; daughter, Belinda Anderson; son, Joey Flanders; brother, Bill Johnson.
Published in The Huntsville Times on March 14, 2007