In Memory
Ancil Kent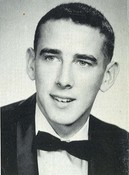 March 10, 1944 - April 26, 2013
Ancil Leon "Buddy" Kent
Ancil Leon "Buddy" Kent, 69, of Birmingham, passed away Friday. Mr. Kent was an avid Alabama football fan and avid fan of all sports. Mr. Kent's love for sports played out as his career began. He worked at Fred Sington's and Lang's Sporting Goods for over 25 years. He had other business interests but retired after 14 years of service from Rehab Technologies. He was preceded in death by his parents, Ancil Leon Kent, Sr. and Pauline "Polly" Mullins Kent.
Survivors include son, Mark T. Kent and wife, Anna, of Huntsville; grandchildren, McLaine Kent and Maddie Kent, both of Huntsville; sister, Karen Caine and husband, Cecil, of Moulton; and several nieces and nephews..
Buddy was deeply loved and will be sorely missed. His wit, charm and selfless love for others touched many, many lives. He leaves his loved ones and friends with many fond and fun stories and blessed memories.