In Memory
Jeni Sue Watts (Brooks) VIEW PROFILE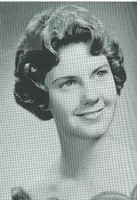 In Memory of

Jennifer W. Brooks

February 15, 1944 - February 14, 2010

BROOKS, Jennifer "Jeni" Susan Watts, 65, of Colorado Springs, died February 14, 2010, at St. Francis Medical Center, after a long and courageous battle with cancer. She was born in Durham, NC, but grew up in Huntsville, AL. Jeni started her career as a Registered Nurse in Huntsville after graduating from Emory University in Atlanta in 1967 with a bachelor's degree in nursing, and was extremely instrumental in bringing the first well baby clinic to the area. She began her Master's Degree in Administrative Science at the University of Alabama in Hunstville, then moved to Darnestown, Maryland in 1979 and commuted back to Alabama to finish her master's degree in 1980. She went on to have a successful career in Human Resources Management with various government contractors who provided computer and communication systems, eventually working as a Campus Relations Manager with Lockheed Martin the last eleven years of her career. She was a devoted and beloved wife and mother. Her passions included family, photography, traveling, classical music, and watching Alabama football. She had fond memories of trips to Antarctica, Africa, and multiple countries in Europe, most notably Austria and Switzerland, which were her favorites. The photographs she took during her travels are amazing. She will always be remembered by her family and friends as a special person who had an astounding drive to accomplish whatever she set her mind to.
Click here to see Jeni Sue's last Profile entry.