In Memory
Jimmy Fanning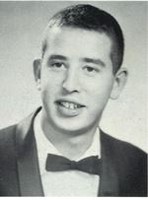 Madison County, Alabama Obituary Collection 1998-1999
6/19/1999
James W. Fanning
James W. "Jim" Fanning, 55, of Huntsville died Thursday at a local hospital. The funeral will be Saturday at 2 p.m. at Laughlin Service Funeral Home chapel with Dr. Jimmy
Jackson officiating.
Burial will be in Maple Hill Cemetery.
Mr. Fanning worked for Huntsville city schools and with the Earth Scope Project.
Survivors include his parents, Roy L. Fanning Sr. and Ruby Prosser Fanning, both of Huntsville; two brothers, Roy Fanning Jr. of Hilton Head, S.C., and Larry P. Fanning of Tucson, Ariz.; two sisters, Sandra Drake of Huntsville and Judith Sharp of Harvest; and several nieces and nephews.
Memorial donations may be made to the American Cancer Society or the Whitesburg Baptist Church Youth Camp.
Visitation will be Saturday from noon to 2 p.m. at the funeral home.
http://www.genealogybuff.com/al/madison/webbbs_config.pl/noframes/re